ART BIRTHDAY PARTIES & SPECIAL EVENTS
Let Private Picassos custom-design a fabulous art party for your child's next birthday or upcoming event!

Our party packages include an hour long art activity (with all materials, set-up and clean-up), Private Picassos' balloons, gift bags to transport artwork home and a complimentary private art lesson for the birthday boy or girl. While most parties are 45-60 minutes long, we can extend our activities to 1.5 hours, depending on the chosen activity and age range of the participants.
A $200 minimum is required for all birthday parties.
Read rave reviews from parents about our fabulous Art Birthday Parties by clicking to our Yelp page!

See our Facebook or Instagram pages for photos of previous parties and events!
Our staff will put together a fabulous art class for your guests, including all art supplies, set up and clean up.

Prices for our parties depend on the chosen activity, age range and number of participants, but the average cost is between $40-$45/participant.

AVAILABLE ART ACTIVITIES:
Activities can be focused on a specific theme upon request. Depending on the age range of your guests, a combination of two or three art projects can be arranged.
Drawing Exploration - kids will use oil pastels, chalk, colored pencils, markers and dot markers to create colorful drawings.
Collagraph Printmaking - kids will use recycled cardboard and foam shapes to create their own stamp, which they will then print to make an edition of prints!
Faux Stained Glass - kids will use tissue paper and colored acetate on a clear sticker, making a layered collage that mimics stained glass windows. The collage will then be placed into a backless frame and decorated with sharpie markers.
Mixed Media Clay Sculptures - kids will use Crayola Model Magic Clay in two primary colors and white, along with colorful wire, popsicle sticks, google eyes and feathers to create whimsical sculptures.
Papier Mache - kids will created sculptures with recycled materials and then add a layer of colorful tissue paper and glue for the finishing touch!
Recycled Sculptures - kids will build a 3D sculpture, using a variety of recyclable materials and masking tape.
Collage Exploration - kids will use colored paper, tissue paper, stickers, painted paper and feathers to create a colorful collage.
Watercolor Exploration - kids will explore watercolor paint on thick watercolor paper.
Styrofoam Printmaking - kids will create their own stamps by drawing images on styrofoam sheet. Their stamps will then be printed into an edition of prints!
Acrylic on Canvas (for artists over 5 yrs) - kids will sketch their own composition for their painting, first on white paper and then on their canvas. Acrylic paint will be added on top, creating a unique masterpiece for each child!
Cupcake Decoration (NEW!) - kids will decorate their own cupcakes from Buttermilk Bakeshop using primary colored frosting, sprinkles and other edible add-ons.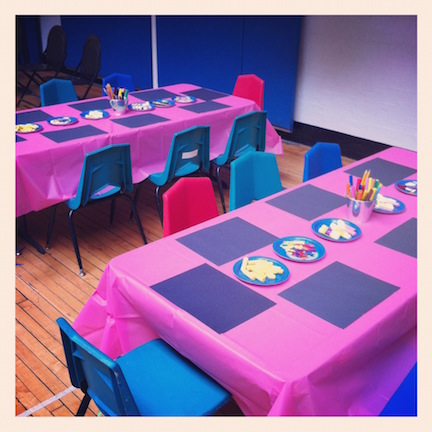 If you're looking a less structured art experience, we can also arrange a drop-in art table at your event. This would be facilitated by 1 of our teachers, with up to 10 kids working at a time over the course of 1 hour.
Choose up to two art projects from a list provided via email. We'll design the projects around the number of children attending your event, their age range and any special themes.
The cost for this option is $30/participant.

Please note that this package is only available for a minimum of 10 students.
We can provide a table(s) for this option at an additional cost. All art materials are included in the price listed above.
Art Goody Bags, featuring unique items from our Park Slope Art Studio, are also available a la carte for $15. Goody Bags will include 3 packs of Crayola Model Magic Clay, a mini sketchbook, assorted novelty erasers and a Private Picassos' pencil.
Fill out the form below and we'll send you a detailed proposal of what we can offer!